Holmes Honda Bossier City
would like to take the time to recognize the extraordinary achievements accomplished by two of our hard working employees, Mike Murphy and Don Fuller. Traditionally, only 15% of Honda Technicians achieve this distinction. In order to achieve the Honda Master Technician Certification, both Don and Mike had to first obtain the status of "Certified ASE Master Technician," by completing over 249 Honda-specific tests. These tests included technical processes, maintenance procedures, repair support resources,  and service diagnostics. Furthermore, Mike and Don participated in 79 hands-on exercises at an American Honda Training Center! Becoming a Master Technician involves years of study and training, in addition to their daily responsibilities at the dealership. Master Technicians are also required to continue their training and education by completing additional modules every time Honda releases a new model or technology feature.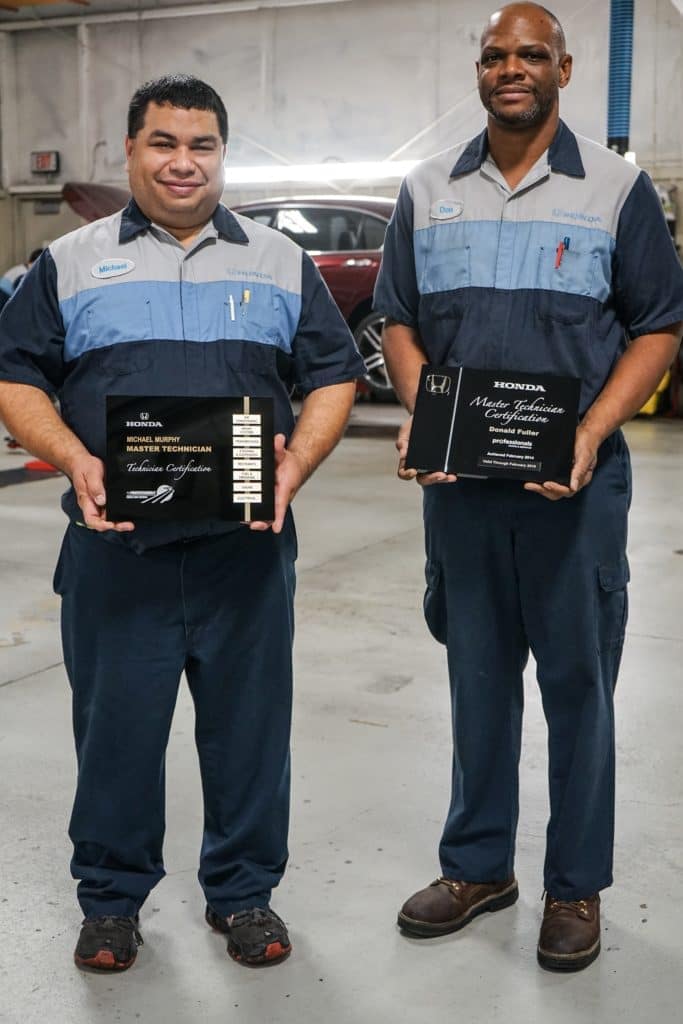 Don Fuller has been a part of the Holmes family for 21 years. He earned his Honda Master Technician Certification in 2014, as well as his CNG Certification. Mike Murphy joined the Holmes Honda team 18 years ago, and became ASE Certified in 2002. He continued to work on his certifications, and earned his Honda Master Technician Certification in 2013! Mike also holds certifications as an Advanced Level Specialist, Alternate Fuels Technician, Undercar Specialist and is also a Natural Gas Vehicle Technician.
Working with a Honda Master Technician gives customers peace of mind knowing that their vehicle is in very skilled hands. These two have been trained in every aspect of Honda vehicles including transmission, engine repair, electrical systems,  and heating and air conditioning. Master Technicians train their fellow technicians on best practices and share their knowledge on new models, providing the customer the satisfaction of knowing their Honda is always in great hands.
Don Fuller and Mike Murphy are both key players in Holmes Honda Bossier City's Service Department, and we are thankful for their hardwork and dedication. Holmes Honda is known for having a well trained staff that provides  exceptional service, getting your vehicle back on the road in great condition in a timely manner. Employees like these help keep Holmes Honda's credibility in our community, and we look forward to seeing what they accomplish next!